How do you get fit when you can't fit in a workout? The modern-day disease of busyness means we aren't always able to squeeze in hour-long sessions at the gym. But what if we told you we've got a fast and convenient way to beat the convenience-food blues?
We're talking about the Vibro Fit Vibration Machine that'll (literally) shake away that excess weight and get you feeling fit!
What is the Vibrofit Vibration Machine?
The Vibro Fit Vibration Machine is ideal for professional sportspeople, exercise enthusiasts as well as beginners. The Vibrofit is a modern vibration machine that engages all your muscles with quick vibrations. ]
The machine provides enough intensity for bodybuilders and seasoned athletes but is perfectly safe and gentle enough for anyone just starting out.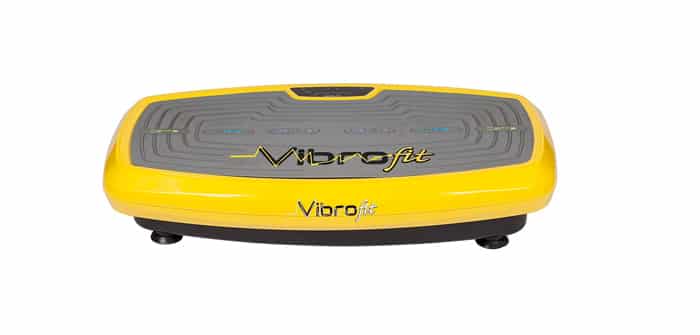 The VibroFit Vibration Machine stepping platform features a non-slip rubber, so your feet stay firmly in position. The wider area allows you to spread your legs out evenly for more intense workouts, and you can use it for push-ups, sit-ups as well as step routines.
There are two elastic bands on either side of the platform which help you keep your balance. You can also incorporate these into your exercise routine, to work your shoulders, biceps, triceps, and chest. Just 10 minutes a day will help you get in shape, lose weight and have you feeling healthier.
Read the Latest Customer Reviews on Amazon.com →
(don't worry, button opens a new tab)
Features of the Vibrofit Vibration Machine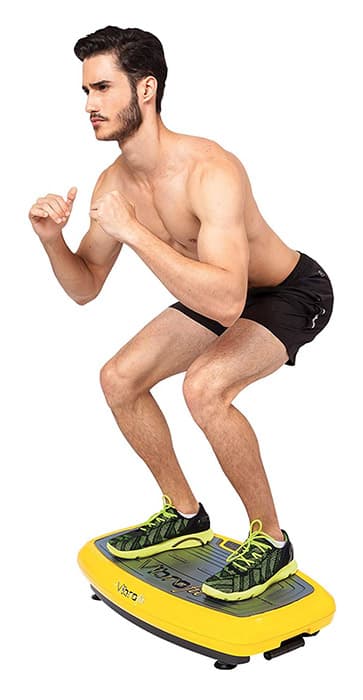 If you prefer working out to your favorite tunes, you'll love the built-in Bluetooth speakers. All you need to do is pick your playlist and plug it in, and you're good to go. The VibroFit comes with a remote control that lets you adjust the frequency and incline levels while you're exercising.
Operating the Vibro Fit vibration plate is extremely easy. There are four pre-set workout programs, or you can adjust the levels manually. The vibrating platform oscillates in three directions, and there are 99 different speeds with 60 vibrations a second.
Using the
VibroFit Vibration Machine has a number of benefits.
Not only will this vibration plate help with weight loss it will also help improve your balance, tone your muscles and strengthen your back.
Pros
The vibrating machine is durable and solid
Suitable for all ages and all levels of fitness
Convenient to use anywhere and stores away easily
The wide platform allows you to increase the intensity of your workouts
Cons
It's a little more expensive compared to other vibrating platforms
Some users have mentioned that it is noisy
Vibrofit Review Summary
Summer is always around the corner, and we're all after the same thing – a healthy, happy body that will look awesome in a swimsuit. The VibroFit Vibration Machine will help you lose weight and get you in shape in the comfort of your home, and all it takes is 10 minutes a day.
Hell, if you've got the space at home check out our Confidence Fitness vibration machine review too, for a fully feature packed permanent vibration machine.
You can use it for a quick workout in the morning before work, or in the evening, once the kids are in bed. The vibrating platform can be used by anyone, and the 99 different speed levels mean you can adjust it to suit your fitness needs.
Read the Latest Customer Reviews on Amazon.com →
(don't worry, button opens a new tab)