Whole Body Rock Solid Vibration Machine Reviews, Tips & Buying Guides
There are many options out there when you are looking for home gym equipment. Even if you want something a bit different from the norm, you can still find a fun and effective way to lose weight and tone up your muscles.
Introducing the Rock Solid Whole Body RS 2200 Vibration Machine.
Although the Rock Solid vibration machine is considered a little pricier than some, this is still a highly rated and well-designed and built piece of home gym equipment. If you are bored of doing the same routine or have already tried a vibration plate at your local gym or a friend's and want one of your own – consider the potential of this one.
What The Rock Solid RS2200 Vibration Machine Looks Like
While the most important thing about an exercise machine, regardless of the type it is, is how it functions, you still want one that you are going to enjoy stepping on to every day. This Rock Solid Vibration machine is a slick and neat looking product with a gray and back color scheme that will look good virtually anywhere.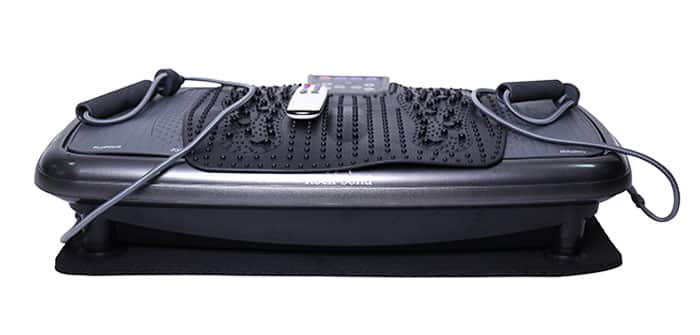 Size-wise, the dimensions of this Rock Solid vibration plate are 26 inches by 14 inches by 6 inches. So, just like many others in the same class and price range, it is a very portable and compact, but powerful machine.
Whether you will be exercising mainly at home or between home and the office, this vibration machine from Rock Solid will suit either.
Read Hands On Customer Experiences on Amazon →
(don't worry, button opens a new tab)
Features of the RS2200 Vibe Machine
Obviously, there is more to gym equipment than just stunning good looks. You need to look a little under the hood to see what a piece of gym equipment is all about.
From our Rock Solid vibration machine review, you'll learn that it comes fully equipped and is programmable, which is fairly standard nowadays, with many of the most important metrics being tracked. This includes speed, time (to ensure you stay within the safe limits), fat burnt off, and you can select and alter settings from the control panel too.
Keeping with the controls for the machine, it comes with a remote controller so that you don't necessarily have to bend over, kneel down or crouch to fiddle with the settings.
What can you expect from the speed of the vibrations? Well, with the RS2200 is a choice of 1 to 99 different speed settings for the oscillating device.
So whether you are looking for a fast and adrenaline pumping routine or a slow, precise, and tone builder, you can have it both ways and more in this handy little machine to ensure you see the maximum benefits of vibration exercises.
Not only do you have to just stand up and use it that way, but it is also versatile enough to be utilized with a number of differences. There are even straps that can be attached to it that stretch up with you.
Pros
Portable and convenient
Variable speed settings from 1 to 99
Fully operational LED control panel and screen
14-day money-back guarantee and 2-year warranty
Cons
A lot more expensive than other models on the market.
Review Summary
To summarize if you are in the market for a replacement or brand new vibration plate machine, this particular model might be a great start. Though it may be in the higher end of the market, it's a Rock-solid vibration plate with a ton of features.
If you want to purchase a bigger, full-size vibration plate, it might be worth checking out the Confidence Fitness whole body vibration machine.
Read Hands On Customer Experiences on Amazon →
(don't worry, button opens a new tab)
Read more:
Confidence Fitness whole Body Vibration Machine Review In 2023