Axis-Plate Whole Body Vibration Platform Training and Exercise Fitness Machine Reviews, Tips & Buying Guides
While this might seem like a sweeping generalization, many people think that gyms and fitness clubs are for people who are already in shape and want to tone and shape their bodies. Although this isn't true, people can sometimes feel intimidated about joining their local gym for this reason.
So what's another alternative to getting fit in a comfortable environment? Try getting fit at home! This also goes for injured people who want to jump on the fitness bandwagon but aren't able to work out at the gym. What's considered normal exercise for some, is difficult and painful for others.
If you find yourself wanting to get fit, but aren't physically able to or are constantly avoiding the idea of going to the gym, maybe it's time you tried a whole-body vibration platform.
What the Axis-Plate Whole Body Vibration Platform Looks Like
Before you let the good vibrations take over, it's important to keep in mind that you will need to follow a healthy eating plan and slowly introduce physical activity like walking and swimming to get the respiratory and cardiovascular benefits. But using a vibration platform like the Axis-Plate is a step in the right direction.
The Axis-Plate Whole Body Vibration Platform Training and Exercise Fitness Machine lets you ease into an exercise routine in the comfort of your home. With 99 speed settings as well as 3 pre-programmed workouts, it's suitable for people of all levels of fitness and abilities.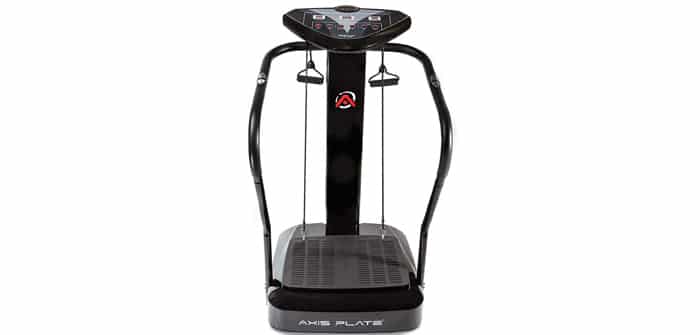 The whole-body vibration exercise machine allows you to monitor your progress with Body Mass Index sensors that are built into the handles. Also, as you get fitter and feel more confident, the removable upper body resistance bands let you increase the intensity of your workouts.
Read Hands On Customer Experiences on Amazon →
(don't worry, button opens a new tab)
Features of the Axis-Plate Whole Body Vibration Platform
The Axis-Plate Vibration Platform Training and Exercise Fitness Machine has a solid steel construction that can support up to 265 pounds. It's an affordable option, and the commercial-grade vibrating plate delivers as much as 500W of power for low-impact training
It features an oversized anti-slip base and non-skid rubber feet. Advanced users and beginners will benefit from the easy-to-read control panel and the straightforward operation of the machine.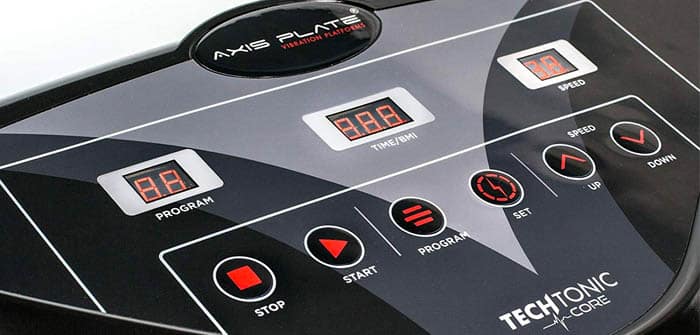 It has built-in BMI sensors for you to monitor your progress, as well as 99-speed settings, a manual mode option, and three pre-programmed workouts. It also comes with front wheels for increased portability, and the sleek, compact design means it can be used anywhere.
Pros
The whole body vibration platform exercise machine is easy to use
Very affordable
Portable and compact
It includes a manual with 36 exercise positions
Pre-programmed workouts as well as adjustable settings
Cons
The weight capacity is 265 pounds, which might limit some users
It can be heavy to move around
Review Summary
So the question is, should you get one? Absolutely. The Axis-Plate Whole Body Vibration Platform Training and Exercise Fitness Machine comes highly recommended for anyone wanting to build muscle and tone their bodies, lose excess weight, and maintain fitness levels after an injury.
The oversized base makes it comfortable to step on and the handles give you the stability you need, especially if you're new to the whole vibrating plate thing. We suggest you speak to your health practitioner if you're beginning an exercise program, to make sure it's right for you. All in all, this is an excellent piece of equipment that you'll want to add to your home gym.
Read Hands On Customer Experiences on Amazon →
(don't worry, button opens a new tab)
Read more:
Finether Vibration Plate Vibration Platform Reviews In 2023