Summer is around the corner, and you want to trim and tone your winter body, but the idea of hitting the gym holds little to no appeal. So what do you do?
You vibrate yourself into shape with a vibration platform. Say what? Some of the best whole body vibration plates let you stand, sit or lie on the platform, which then vibrates and transmits energy. This forces your muscles to relax and contract a number of times per second, which stimulates muscle tissue growth.
Still unsure? Fitness vibration plates have various benefits including body shaping, improving your circulation, increasing strength and stamina and even relieving lower back pain and losing weight.
Once considered more of a gimmick, vibration plates are gaining popularity around the country for people wanting to build muscle or lose weight. They reduce workout time by as much as two thirds and can be used by most people with no side effects regardless of fitness levels. They're also available for home use, in a compact size and some really nifty colors.
What the NexHT Fitness Vibration Platform Looks Like
The NexHT Fitness Vibration Platform is getting a lot of attention, for all the right reasons, so we thought we'd review it. Like other vibrating plates, it's a body massaging tool that uses different levels of vibrations to get your body into shape.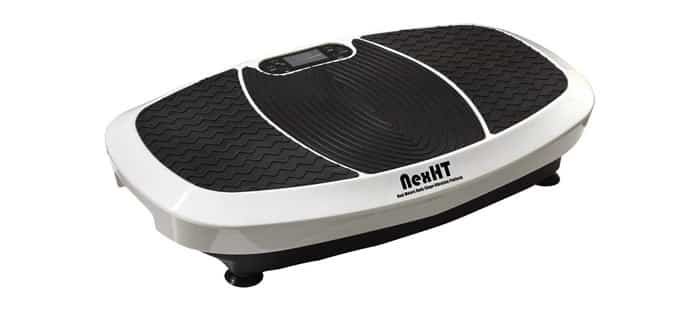 The compact size allows you to move it from one area to another and depending on the kind of fitness program you're following, you can use it for push-ups and step training.
Busy schedules and limited time aren't an excuse for the NexHT plate – you only need 10 minutes a day to burn body fat, strengthen and tone.
Read the Latest Customer Reviews on Amazon.com →
(don't worry, button opens a new tab)
Features of the NexHT Fitness Vibration Platform
The vibrating platform is easy to operate and has various speed ranges as well as deep vibration options. It comes with yoga straps, and remote control to maximize your workouts and really make a difference.
It only weighs 30.5 lbs, which means it compact and lightweight enough for you to be able to use anywhere. It's also small enough so it can be stored under your bed or in a cupboard making it easy to put away after each workout.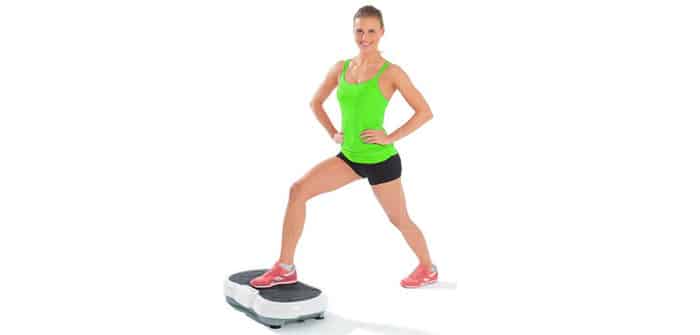 One of the features we especially love, and you music lovers will enjoy too, is that the NexHT Fitness Vibration Platform also has built-in USB speakers. What more could you ask for from your workout?!
Pros
The NexHT Vibration Platform is affordable and works as well as models twice the price
It's well made and durable
One-year warranty
The machine is easy to use and comes with a manual
It can go as high as 50 Hz
The whole-body vibration platform is available as a single motor (triangular oscillation) and dual (3D vibration)
Cons
It doesn't come with recommended exercises
Some people have complained about a strong odor
Review Summary
The NexHT Vibration Platform might be small in size, but the 200W motor makes sure you get a thorough workout in the comfort of your home. In just 10 minutes a day, you can tone your body, burn fat, and reduce cellulite.
This effective exercising plate is portable, easy to store and affordable. We also like that it's available in different color options. You can also use it for push-ups and step training when it's not vibrating, and a feature we especially love is the built-in USB speakers. Yes, there are better models available, but this is a great piece of equipment that'll help you achieve your goals, without breaking the bank.
Read the Latest Customer Reviews on Amazon.com →
(don't worry, button opens a new tab)