Ancheer USB Speaker Fitness Message Vibration Plate Reviews, Tips & Buying Guides
Want to get back in shape? Can't afford to spend over the odds on fitness equipment? If your answer to both these questions is in the affirmative, you need the Ancheer USB Vibration Plate.
There are many reasons why vibration plate exercises have been in the vogue of late. By stimulating your muscles, a vibration plate improves the flow of lymph, hence decreasing blood pressure and increasing blood circulation to lower your tension levels.
However, as you might guess, not all vibration plates are the same, which means that only by choosing the best vibration plates could you garner the abovementioned advantages. And that is where our review of the Ancheer USB Speaker Fitness Massage Vibration Plate comes into play.
What the Ancheer USB Speaker Fitness Message Vibration Plate Looks Like
Starting from its color range, and it seems safe to say that versatility isn't a strong point of the Ancheer. For, while its competitors come in numerous colors, Ancheer has decided to stick with the age-old all-black pattern.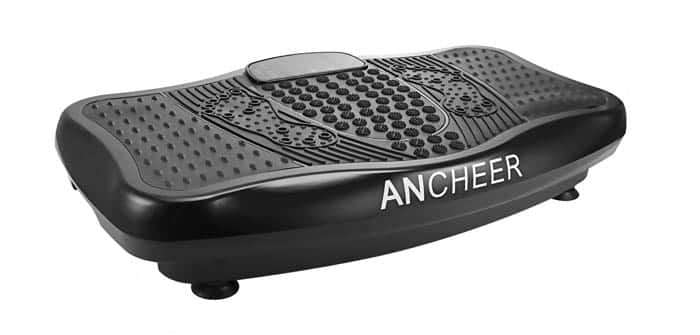 That said, what the Ancheer lacks in color range, it more than makes up for in its weight capacity. Despite weighing only 16kgs, it has a weight capacity of 330lbs, enough for both the adults as well as middle-aged parents.
Finally, there is the small matter of its dimensions. Measuring up at 30.4 x 17.6 x 5.5 inches, you could easily store this vibration plate under your bed or inside your cupboard without it consuming extra storage space.
Read Hands On Customer Experiences on Amazon →
(don't worry, button opens a new tab)
Features of the Ancheer USB Speaker Fitness Message Vibration Plate
Undoubtedly the best feature of the Ancheer, which is also it's most useful, is its bright LCD display. Apart from showing speed and time, the LCD screen also displays the fats you've burnt during the exercise, hence allowing you to track your fitness goals.
Also, if you purchase the Ancheer, you don't have to consult an expert on how to use it for maximum effectiveness. Instead, it comes with five built-in, automatic programs to get you up and running. Then there are speed levels that range from 1 – 180, though we recommend keeping them slow for beginners.
It also has a built-in USB speaker which allows you to drown out your sweating and groans in the music. Then there is the footpad, which, in addition to providing massage, has a non-slip surface, which means you could place it anywhere you want.
For the serious athletes out there, the Ancheer provides an option with its resistance bands. Attached to the vibration plate, these resistance bands let you adjust the toughness of your exercise. And finally, you won't have to bend over control its buttons as the Ancheer comes with remote control.
Pros
Offers 0 to 180 levels
Provides remote control and 2 Resistance Bands
Non-slip and massaging foot pads
5 Built-in programs
Cons
Some users aren't happy with its grip
Review Summary
Whether you're a beginner who is just learning their trade – or a pro who wants to take their fitness to the next level, the Ancheer USB Speaker Fitness Message Vibration Plate deserves your attention.
Read Hands On Customer Experiences on Amazon →
(don't worry, button opens a new tab)
Read more:
JUFIT Fitness Vibration Plate Review 2023