Hypervibe G-10 Vibration Machine Reviews, Tips & Buying Guides
Are you looking for a natural approach to help your body move and function better? With the Hypervibe G-10 Whole Body Vibration Machine with Mobile App, you can make yourself feel and look great!
This vibration machine does not only help you achieve your fitness goals but accelerate them by combating cellulite, speeding up metabolism, and stimulating your lymphatic system.
According to research, using a whole-body vibration machine like the Hypervibe G-10 can result in increased strength and reduced risk of osteoporosis. Whole-body vibration machine therapy is easy, safe, and practical when it comes to maintaining bone strength as well as relieving joint and muscle. It is also an excellent way to help remove cellulite.
What the Hypervibe Whole Body Vibration Machine looks Like
The Hypervibe G-10 doesn't weigh much. It is small enough to carry so you can take it anywhere with you. Just pick it up and set it anywhere you want to do your exercises.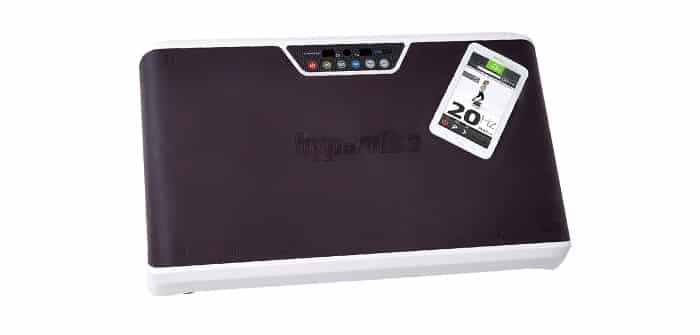 Once you're done, you can easily store it wherever you want. Its small size makes it a good choice for those who like convenience and portability. It is also perfect for those who have limited floor space at home as you can still perform a wide range of vibration exercises.
Read Hands On Customer Experiences on Amazon →
(don't worry, button opens a new tab)
Features of the Hypervibe Machine
Unlike many vibration machines, this model can be set up to use Bluetooth technology. It means that you may control it and access its 40 goal-based programs using devices like smartphones, tablets, or even MP3s.
Here's another bonus. There is a free iOS or Android application that you may use to control the device and get access to over 100 exercise videos!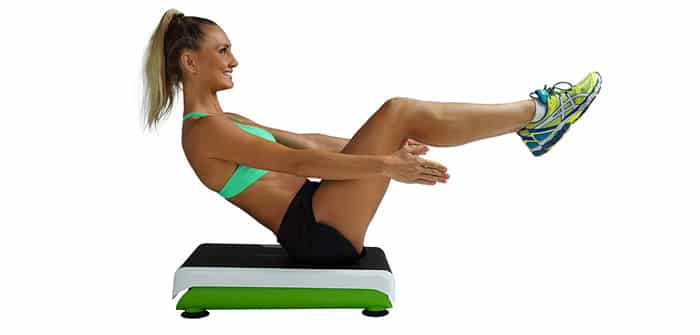 The Hypervibe G-10 may be smaller than other vibration machines, but it is definitely a portable powerhouse. It is small, lightweight, and powerful!
Pros 
Convenient size, lightweight
Portable
Easy to use with a wide range of health benefits
Compatible with Bluetooth devices
– Can be accessed through a free mobile app (iOS and Android)
– Equipped with 40 goal-based programs
– Can be used for whole-body vibration machine therapy
– Maintains and improves bone strength
Cons
Speed might not be enough for some people
Lack of safety features
Hypervibe Vibration Machine Review Summary
Both experienced and inexperienced gym goers could benefit from the Hypervibe Whole Body Vibration Machine with Mobile App. Its small, lightweight, convenient, portable, and most of all, effective. It does not only help with weight loss but also with bone-strengthening and overall health and fitness improvement.
The bonus features that make this unit stand out are Bluetooth connectivity and mobile app (iOS and Android) compatibility. With these, you may access its 40 goal-based programs as well as 100 free video exercises right at your fingertips!
If you think that this device is perfect for you, make sure to consult your doctor before using it. You need to make sure that you are physically able to do exercises on this device first and that you don't experience any adverse side effects.
Read Hands On Customer Experiences on Amazon →
(don't worry, button opens a new tab)
Read more:
Reliancer Full Body Fitness Vibration Platform Reviews In 2021