Whether you are interested in improving your bone density, losing weight, toning muscles or increasing your blood circulation, there are many great reasons why you should be curious about vibration plates.  You need to be mindful though, if you are looking to try vibration plate-involved exercising, you need to ensure that you invest in a good quality machine by a reputable and trusted brand that also falls within your available budget.  The reason being is that not all vibration plates are designed and manufactured the same.
Although top of the line vibration plates do feature all the features and extras you could ever want to enhance your workout experience, they are not the cheapest models on the market.  If you are restricted by your budget then, you should consider the BSlimmer Vibration Plate.  Despite it it's relatively love price, the BSlimmer Vibration plate packs a powerful punch and is a good introduction to this style of exercise.
Fully Equipped With An Oscillation Plate
As an oscillating platform machine, this BSlimmer model's base has a central fulcrum point which means that the platform you stand, sit, kneel or even lie on wobbles  from side to side similarly to a see-saw swing.  This can be a great benefit as it is a good substitute for the motion of walking.  Users often feel more comfortable with an oscillation plate machine than they do a linear plate machine.
Another important benefit of the oscillating motion is the fact that fewer G forces are created.  This means that the joints have less impact, which is great for people suffering from joint pain or damage.
Variable Oscillation Speed Settings From A Powerful Motor
The BSlimmer does not disappoint when it comes to motor power, because when it is running at its maximum speed, the machine can achieve a total of 2500 rpm.  Even when you are using the machine at the lowest speed settings, you will still feel the vibrations working through your muscles.  As the machine's speed settings are adjustable, it enables you the chance to fine tune and tweak the settings to suit your own fitness level and capabilities so you are never overworking or under-working yourself.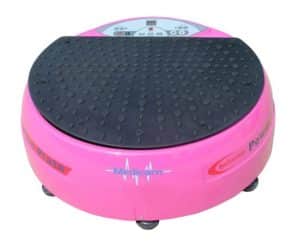 So whether you want to push yourself really hard or want a nice and relaxed workout, you can do either with this machine at the touch of a few buttons.  There is also three pre-loaded workout programmes that you can choose from low, medium and high.  However, don't be dismayed as there is 50 different speed settings you can select manually to really challenge yourself.
Very Robust and Sturdy Platform Design And Construction
Obviously the quality of the design and build of a product is very important and the BSlimmer vibration plate does not disappoint in this regard either.  The robust and sturdy platform weighs around 32 Kg and is capable of supporting users with a maximum weight of 120 Kg.
The one downside of this particular vibration plate's design is the fact that there are no vertical support bars or hand rails.  However, this can be compensated for by placing the machine close to a wall or another stationary item you can use for support.  As an additional layer of support though, the platform is made of grooved material to give you a stronger grip under your foot to avoid unnecessary and unwanted skids and slips.
Equipped With Easy To Use Digital Control Panel And Remote Control
Like the vast majority of vibration plates available on the market these days, the BSlimmer vibration plate features a very easy to use, push button digital control panel.  The control panel features buttons for selecting the speed, workout duration and the pre-installed workout programmes.
As the control panel on-board the vibration plate is low mounted, it can be hard to reach when you are working out – particularly if you are lying or facing away from it.  Fortunately, BSlimmer have included a remote control that offers the exact same options that are featured on the digital display panel.
Accessories
Remote control
2 flexible power cords for additional upper body toning exercises
Free vibration plate workout DVD
Instructional manual
Dimensions
A fairly compact design, the BSlimmer Vibration plate measures at just 23 cm by 60 cm.
Pros
Easy to assemble and use
Digital control panel
50 oscillation speed selections
3 pre-installed exercise programmes
Affordably priced for an entry-level vibration plate
Sturdy and wide platform
Anti-slip grooves on top of platform
Compact, space saving design.
2 flexible power cords
Remote control
Cons
There are no vertical bars or hand rails for extra support when performing routines standing up, making it especially hard to use on higher speeds
Without the remote control, it is difficult to adjust settings on the digital control panel
motor can be a little noisier than other models at the maximum speed levels
Customer Opinions
As you'd imagine, no product is completely perfect and the BSlimmer vibration plate is no different.  Despite some negative reviews however, the vast majority of customers who have parted with their hard earned money for this machine have been very happy with it.  The results, of course, are the thing at people like the most about this machine, with many noticing a marked improvement and differences after just a few short uses.  The price and the quality of the build were also highlighted by happy customers.
Summary
There is such a wide variety of different machines to choose from in the vibration plate market nowadays, that it can be overwhelming.  It is important to keep a clear head when purchasing these kinds of items though and you should never just click and buy the first one you look at.  Take some time to browse the options that fall within your budget and consult the customer reviews submitted too.  If you are looking for a good value, well liked machine with plenty of power and versatility though for a very affordable price, you could do a lot worse than choosing the above BSlimmer vibration plate.
If you're interested in vibration plates accessories, click here.