The number of people looking to work out at home with a vibration plates machine is increasing all the time. Therefore, it is no surprise to see classy models such as the ZAAP TX-5000 Power Vibration Trainer hitting the market.
This is a small and efficient device that makes working out in the house far more of a pleasure that ever before. If you haven't ever used the vibration plates method of exercising then you will be delighted to discover that this is simple and also pretty enjoyable too.
It isn't the cheapest of the vibration plates options on sale right now but it is still a very reasonable price for something that could change your life for the better.
What It Looks Like
This is a small and compact machine that actually looks pretty fantastic. It is smaller than many of the machines you will see in the gym but bigger than many of the models around for home use.
While a lot of home vibration plates just have the platform for standing on, this one has handle bar and a display screen that sits closer to the user's face and hands. This makes it easier and safer to use.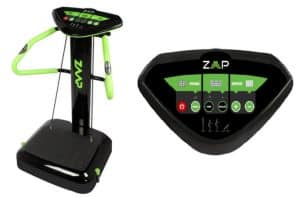 It weighs in at 28kg, so it isn't a portable as some of its competitors and is likely to be something that you use in one room rather than moving about from one place to another. The overall size is 70 x 60 x 122 cm and the attractive colour scheme used in the design means that it will look great in your home.
Features
The first point to mention here is that the 600W motor is a bit more powerful then you will find in many of other home vibration plate models. Yet, the ZAAP TX-5000 Power Vibration Trainer feels smooth and efficient as well as powerful.
The display screen gives you all of the information that you could possibly ask for, from time and speed to your pulse. It is also good to see that you can choose your speed from 50 different settings.
In addition, 3 built-in workout programs make it incredibly easy to get started on your very first time using this machine. Another benefit to be taken into account is that the motor is very quiet, so it isn't going to give anyone in the house a sore head when you use it.
Reassuringly, there is also an anti-jamming and anti-static mechanisms included that makes it safe to use. It is worth bearing in mind that the maximum user weight is 120 kg.
Pros
Good-looking design and colour scheme
Wide range of features make it easy and interesting to use
Sturdy construction
Quiet motor
Cons
Some people prefer a lighter and more portable vibration plates option
Summary
This is clearly an excellent choice of exercise machine for a lot of people. The fact that it is bigger and has a wider range of features than many of its competitors means that it is great fun to use, while also bringing positive results.
In terms of the cost, it is a little bit higher than most of the cheapest alternatives around just now. However, the bigger size and the quality of the construction make it seem well worth paying a small amount of extra money for.
This is the sort of investment that could have you feeling happier and fitter for years to come. If you feel that the time is right to do something about getting stronger or losing weight then this is the kind of exercise machine that makes a lot of sense.