One of the home gym equipment trends that shows no sign of going away anytime soon is demand for and love of exercising using vibrations – the kind of exercise offered by vibration plates.  Trying to choose the right one from a veritable feast of different machines with what are essentially the same features and options, can be tricky.  This is why we have gathered together our favourites to review for you, such as this Vibrapower Slim Body Vibration Plate machine.
Like we just said, many have very similar features, very similar designs and very similar prices; but if you look at them closely enough you will spot little details that make them that little bit different.  It's that difference that might mean one particular vibration plate is better for you than another person.
With all of the above in mind, let's take a close look now at the slick and attractive Vibrapower slim body vibration plate.
Features Various Speed Settings For A Truly Versatile Exercise Experience
When you are spending lots of money on one piece of equipment, you are justified to expect that one piece of equipment to be worth the money.  The simplest and most effective way most vibration plate manufacturers and brands do this is by equipping their machines with the option to manually select the speed of the vibrations, to match the level of intensity you want for your exercise routine.
The Vibrapower slim body vibration plate is no different and offers 20 different vibration speed increments to choose from to make your routines as intense or not as you want.  There is also the option to alter the duration of your workout, which in turn also plays its part in whether your routines are going to be intense or not.
You can use the Vibrapower slim body vibration plate to enhance a variety of different exercises such as – calf raises, push-ups, lunges and squats and with the use of the resistance bands – overhead shoulder press, biceps curls and bent over row.
Quiet Running Motor
Even though you would be hard pushed nowadays to find a vibration plate exercise and massage machine that didn't have a quiet to silent running motor; it is still worth mentioning that this vibration plate machine offers the above speed options while being powered by a virtually silent motor.  It may not seem like important information, depending on your local neighbourhood and how close you are to your next door neighbours geographically,  If they are in the flat below you or are in a house that is attached to your property.
The fact that this hardly makes a sound also means that even if you share a busy household with other people, whether they are flatmates or family members; you can still use this device at any time of day.  When you are done using it for the day, it simply packs away under a bed or in the bottom or top of a wardrobe, no hassle and no fuss.
Accessories
Remote control so you don't have to lose a particular pose to try and alter the settings
2 Flexible resistance bands for extra upper body exercises
Free instructional exercise DVD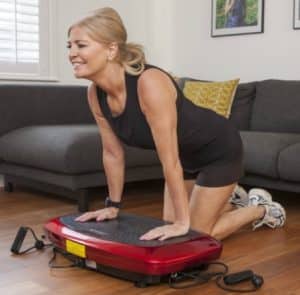 Dimensions
The Vibrapower Slim Body Vibration Plate is one of the smaller models on the market and is easily stowed away when not in use thanks to the fact it measures at a length of just 72 cm by a width of 44 cm and a height of 13.5 cm.
Pros
Slick, stylish and compact design
Sturdy and robust construction
Lightweight
20 different vibration speed settings
Built-in pre-installed workout programmes and manual modes
Remote control
Free DVD features three different workouts (beginner 3 mins long, intermediate 7 minutes long and advanced 10 minutes long)
600 W powerful but almost silent running motor
2 resistance bands to increase the versatility of the workouts you can complete with the vibration plate
Cons
Not as many options as other models for similar prices
Does not feature hand rails or handlebars to aid standing exercises
As it's more lightweight than other models the maximum user weight it can handle is just 120 Kg
Customer Opinions
Consulting customer reviews from people who have actually parted with their hard earned cash for an item is one of the best ways to get a clearer picture regarding the truth about a product.  The striking thing when looking at the reviews for this Vibrapower vibration plate machine and why we can say in good conscience that it is one of the most popular items of its kind on the market, is just how many people have left reviews awarding it the full 5 star rating on Amazon UK.  As a result, the average score of the Slim Body Vibration plate is an impressive 4.8 out of 5 and when you look at the reviews a little closer it is not hard to see why.
One particular customer highlighted that they would recommend the Vibrapower machine for users of all ages, as they were 67 and suffering from arthritis, 2 knee replacements and were still able to use it easily.  As you work your way down the pages of reviews, you will see it time and time again – positive results from using the machine, even just for short bursts of time a day.
Summary
As we have already suggested, the Vibrapower slim body vibration plate is probably one of the most popular of its kind on the market.  Even though it does not feature hand railings or handlebars, it is still very safe and sturdy to use and virtually anyone can make use of it, regardless of background and fitness ability.  As well as functional, despite having less settings to choose from, it is also incredibly lightweight and affordable.  Hundreds of happy customers can't possibly be wrong, can they?
So if you are looking for a solution to working out at home without the need to engage in high impact exercise either because of a legitimate physical reason or just because you have not take in part in such activity in a long time, you will want to give serious thought to investing in the Vibrapower slim body vibration plate.
Click here to read about our Watt Crazy Fit Vibration Plate review.