Working out at home has never felt as smooth and effortless as it now does with the modern range of vibration plates models around. With so many to choose from, it can seem tricky to make a smart choice but the Vibrapower Disc 2 Limited Edition Power Vibration Plate is a solid model worth looking into.
This is classed as being ideal for beginners as well as for more advanced users. Certainly the 200W motor has more than enough power to keep even the most demanding fitness enthusiast working hard.
It doesn't take a huge amount of effort to get start with this machine, as it comes complete with an instruction manual and a good DVD too.
What Vibrapower Disc 2 Looks Like
Small and attractive, this round machine is sure to look good wherever you put it in the house. When you aren't using it then you should find it fairly easy to store it away under the bed or in a cupboard.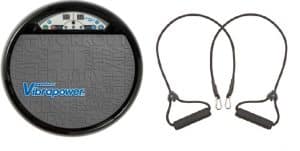 The exact dimensions are given as H 15 cm x W 62 cm x L 62 cm, so it is a nice, compact size that can be moved around easily. The two tone colour design is also striking and pleasant to look at.
Overall, it is the kind of exercise machine that can fit into any sort of house without looking out of place or taking up too much space. If you haven't started working out at home because of a lack of space then this is a good choice of accessory to let you do so now without any problems.
Features
With 20 speeds and the option of using either pre-set or manual mode, this device doesn't have quite as many different settings as some of its rivals. However, it should be enough to keep most people happy anyway, as it offers a good level of variety and flexibility.
The Vibrapower Disc 2 stands out due to the fact that it comes with a nice range of useful accessories. These include a DVD, a remote control and 2 resistance bands as well. The DVD includes a series of 9 minute workouts to get you going.
It works using an oscillating platform that feels wonderful. Some people prefer this type of vibration plates machines while others feel happier with the type that just goes up and down.
120kg is maximum user weight that can be safely used on this machine. It comes complete with an instruction manual that will help you to get to grips with the more advanced features, although there is nothing all that difficult on it anyway.
Pros
Comprehensive package with useful DVD included
Easy to beginners to get started with
Look great
Can be stored just about anywhere
Cons
Experienced users may crave more speed settings eventually
Summary
If you are thinking about taking the first steps towards getting fitter and stronger at home then the Vibrapower Disc 2 Limited Edition Power Vibration Plate machine is going to be a big help in reaching this goal.
The ease of use is definitely one of the advantages offered by this smart device. The fact that it comes with an instruction manual and a DVD also helps new users to get started comfortably while learning the best ways of using it.
No matter what your reasons are for wanting to be more active and healthier, there can be few simpler and more convenient ways of doing so right now. Add in the fact that it is great value and you can see why this is such a good way of exercising at home safely and effectively.
You might also like to read our review for BTM vibration plate here.