The health, wellness, and fitness industry is presently a multi-million market for many reasons. One of these is because we are now becoming more aware of the importance of keeping a healthy and fit lifestyle. So,we make sure to squeeze in health and fitness habits in our hectic schedules. In fact, a lot of people worldwide have been buying fitness equipment for home use and vibration plates are among the top-selling machines. For beginners, the Vibrapower Disc 2 Beginner+ Power Vibration Plate is a resounding name.
How It Works
The Vibrapower Disc 2 Beginner+ Power Vibration Plate comes in a circular shape, but does exactly as other vibrating plates. The oscillating movement of the platform causes the muscles to contract rapidly. These contractions are results to fat-burning and muscle-toning provided that you regularly exercise using the vibration plate.
Best Vibrapower Disc 2 Beginner+ Power Vibration Plate 2017
The Vibrapower Disc 2 Beginner+ Power Vibration Plate comes in different looks and package inclusions. This one in particular measures 15cm in height, 62cm in weight, and 52cm in weight and weighs only 16kg (other vibrating discs are heavier and bigger). It also has 20 speed options and 3 pre-set workouts for your convenience. The contents of the package include 1 Vibrapower disc, 2 resistance bands, 1 remote control, 1 power cord, 1 instruction manual with warmup and workout guides, and 1 DVD.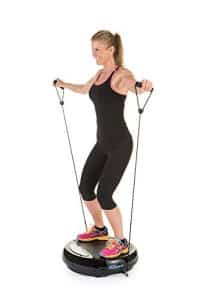 Pros
You don't simply spend your money on something that isn't worth it. This Vibrapower Disc 2 Beginner+ Power Vibration Plate is an exception because not only does it help you tone your muscles and burn excess weight, but it also promotes better blood circulation and joint strength. In terms of the product itself, some positive attributes are:
Compact and Lightweight
The most notable feature of this fitness machine is being compact and lightweight. It doesn't take up much space in the house and it can comfortably sit even under your office table so you can use it during long breaks.
Affordable
This model costs below a hundred dollars so you definitely don't feel the pain of carving money out of your savings.
High Grip
Even if it is disc-shaped, you won't worry about losing your balance whilst standing on the plate because of its high grip make.
Easy To Use
Standing on the vibradisc alone can already serve its purpose. Plus, it comes with 3 pre-set programs for you to try as a beginner. When you're already familiar with it, you can then incorporate free weights or kettlebells for more varied exercise routines.
Cons
The Vibrapower Disc 2 Beginner+ Power Vibration Plate has a few minor shortcomings to note though. Nonetheless, the benefits and key features certainly outweighs the cons.
Larger People May Feel Uncomfortable
If you have naturally large feet or if your frame is huge, you may feel uncomfortable using the machine. Your feet may overlap the disc size or your weight may be too heavy for this vibration plate model (check out other models though).
You May Have To Buy Another Vibration Plate for More Intense Workout
Because this vibradisc is intended only for beginners, you may not feel satisfied with your workout as you get used to it. This means you may have to invest to an upgraded vibration plate so you can perform more rigorous workout.
Getting fit can really be fun and exciting with such an equipment as the Vibrapower Disc 2 Beginner+ Power Vibration Plate, and if you're looking for a machine to get started with your fitness journey, this may just be the one best suited for you.