The concept of working out at home has been revolutionised in recent years thanks to the appearance of machines such as this slick Rocket Bunny vibration power plate machine.
This is an incredibly easy way of getting stronger or of losing weight if that is your main priority. If you are looking to try out vibration plates for the very first time in your life then this is a great machine for getting going on.
You will soon start to feel the benefits as this powerful way of working out gives you added strength and flexibility while you lose weight too. It really is one of the simplest ways of getting good exercise at home that you will find on the market just now.
What Rocket Bunny Vibration Power Plate Machine Looks Like
There is no doubt that this is one of the most attractive of the compact home vibration plates models on the market just now. It looks slick and modern, which makes it a terrific addition to ant type of home.
It is also highly lightweight and portable, with the length coming in at 57.2cm and the width at 33cm. If you want to work out at home then this is an option that is stylish as well as practical.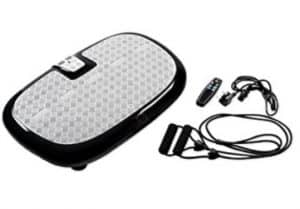 With such a small surface area, it is incredibly easy to store this machine wherever you want to keep it when it isn't being used. The downside to this is that you might find that the surface area is a bit too cramped for you to carry out all of the different exercises that you would like to do.
Features
This is a nicely versatile vibration plates device that has all of the main features that you would like to see in one of these workout machines. For a start, it is easy to set the different levels on it.
The remote control makes it very easy to use and the 1000W motor means that it has the power needed to give you an intense workout every time. If you are comfortable bending over to change the controls instead of using the remote control then you will find that the touch sensitive control panel is very easy to get the hang of.
In terms of customising the workout, there are 30 speed levels to choose from and an amplitude of 9mm. A very useful addition to the package is a set of elasticated power cords that give you a powerful arm and chest workout in a matter of just a few minutes.
Pros
Excellent value for money
Easy and comfortable to use
Great to look at and easy to store
Fun to use
Nice and quiet to use
Cons
Doesn't have quite the same wide range of settings and speed levels as some models in this price category
Summary
Working out at home is going to be far more of a pleasure than a chore once you give the Rocket Bunny® 2017 vibration plates machine a try. It offers a fun and highly effective way of getting fitter and stronger that you will love.
It is also one of the most visually attractive vibrating plates models around, meaning that it is the sort of fantastic machine that looks perfect in any room and that will let you enjoy a healthier lifestyle without any fuss.
Given its low price tag, you might think that this is one of the best investments that you ever make. Certainly, if it provides you with the key to a better lifestyle and a better body then you will be delighted that you choose this model.
Click here to view our review for Gadget fit vibration plate.