With this ReaseJoy 500W Vibration Plate machine, working out at home is about to get easier and a lot more enjoyable for you to do.
Vibration plates are now hugely popular machines that are to be found in gyms throughout the world. Yet, it is only with the recent appearance of compact home devices like this one that many more people are now able to enjoy the multiple benefits of working out in this way.
This is a good value vibration plates machine that is ideal for someone who wants to try out this exercise approach for the first time without committing too much money to it. It is easy to get going with and is likely to add a lot of fun to your workouts in the future too.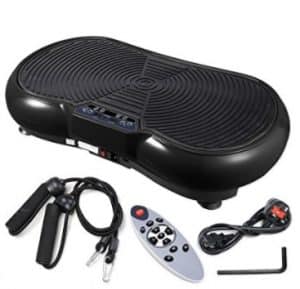 What It Looks Like
This is one of the smaller vibration plate machines on the market just now. What this means is that it is the sort of small and highly portable device that it is easy to fit into any type of home and lifestyle.
The dimensions are 68 x 38 x 14 cm and it weighs just 18kgs. The ReaseJoy 500W Vibration Plate machine also comes in different colours, so that you can choose the one that best suits your style and the room where you are going to use it most often.
As is common with these compact vibration plates, you do sacrifice a little bit of working out space in order to get a highly convenient approach. This just means that you need to be quite creative if you want to incorporate other types of exercise into your routine rather than simply standing still and vibrating.
Overall, it is an attractive machine that could fit in easily to just about sort of house. Even if you stay in a small apartment you should find that it is easy to use this machine and then to find a small space somewhere in which you can store it away until the next time it is needed.
Features
With a 500W high performance motor, you don't need to worry about whether this device may lack the power you need for your workout.
The flexibility that you need for a varied and enjoyable workout each time comes in the form of 99 different speed levels that you can choose from. The maximum user weight it can handle is 150kgs.
A more technical detail that advanced users may be interested in is the amplitude. This is the height difference between the machine's highest and lowest points and in this device it works out as 12mm.
The package also comes with a handy remote control, a user manual and a couple of resistance bands.
Pros
Good value
Light and portable
Simple to operate
Nice appearance
Cons
Not all reviewers are impressed by the instructions that are included
Summary
Getting started on useful and productive exercising routines at home is now simpler to do than ever before. This ReaseJoy 500W Vibration Plate machine is ideal for helping you to lose weight and feel stronger without having to even set foot in a gym.
No matter how much space you have in your house, this device is small and handy enough that you can enjoy a comprehensive workout every single time. It is also easy enough to operate that you will soon be able to get into the swing of things and start using it effectively.
Whether you are fed up paying for gym membership or just want a better way of exercising at home, this is a clever purchase that will let you make the most of your spare time to look and feel better in comfort.
Are you enjoying our vibration plate reviews? Don't hesitate to contact us for any questions you many have. You might also visit our jtx 6000 vibration plate review here.