Working out in the convenience of our house is without a doubt much more favorable specially to those who has an already busy schedule. Well here is another Vibration Plate for your home use. Now this is not as typical as what you see because it has a PVC shell stainless steel that protects you while you work out.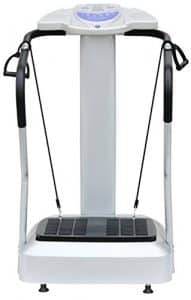 Introducing the Oscillating Gym massage Fitness Vibro Exercise Plate has gained its stance in the vibration plate selling word. Its price value is not bad at all. It is just over £100 more from the usual vibration plates that we see however it's features is the one that has more to offer. Let's see further what 1500W Oscillating Gym massage Fitness Vibro Exercise Plate can bring to us.
Home Use and Function
All vibration plates are great for home use per se but this one has a unique design that is streamlined and fashionable which gives you the feel of being in a gym. So whenever you are using it, it takes you to the "gym vibe". What is great about it that it is just inside your house.
Besides its comfortable design which is ideal for home use, it is also a multifunction vibration plate. Oscillating Gym massage Fitness Vibro Exercise Plate is a vibration plate that comes with a massage belt and a sit up exercise machine. How great is that. It will not only give you a very good experience working out inside your home in an oscillating plate, it will also provide you a relaxing time through a massage.
Motor Power and Features
This machine oscillates in 1500W motor power which give you a seesaw-like movement. That sounds a lot of power but it will not give you that noisy sound that you expect. It is why this is great for home use as well.
Oscillating Gym massage Fitness Vibro Exercise Plate has a LED display multi-function LED display that relects your routine, how fats or slow you are going, time and your body fat percentage. That is one thing that is what this machine has stepped up a notch. You can look at your body fat percentage value which a lot of people has most concern of.
It also equipped with 10 workout programs and a manual control setting whilst which is also monitoring your time and progress on speed while working out. It also has a comfortable and compact design along with its static resistant and jamming resistant feature.
Accessories
Remote Control
2 resistance bands
Massage belt
Manual for instruction
Double speakers
Pros
Fashionable,modern and has a streamline design
Massage belt for back massage function
Great for indoor use, or in your home.
Vibrates in oscillating movement
Manual control for setting whilst
Comfortable and compact design
static resistant and jamming resistant
The plate sits in a stainless steel PVC shell
Cons
Can be too big if you prefer a much smaller vibration plate
Capable of only for 150Kg which is just like the regular vibration plate provided it has a support
Customer Opinion
Every machine we buy is also an investment in our part. It would not be bad if we take a good look first at what people think about the product. This one is really one of those products that is recommended to use. According to the reviews on Amazon, the users of Oscillating Gym massage Fitness Vibro Exercise Plate are amazed by how it works. They enjoyed using some. One even attested that she bought the machine for health purposes.
Summary
Overall, this product is a good investment. It can be for health concerns or the need to lose weight, either way, Oscillating Gym massage Fitness Vibro Exercise Plate will give you the benefit of a machine that is great for indoor use, has a good design and has multi-function ability. If you are looking for these benefits, give Oscillating Gym massage Fitness Vibro Exercise Plate a try.