If you are looking for a new and more interesting way to work out then this MiraFit Vibration Power Plate Gym Machine could be perfect for you. With a decent price and a nice range of features, this is a smart choice of vibration plates machine for workouts that really change your life.
This could give you a completely new way of working out at home if you have never tried the vibration methods approach before. Alternatively, if you already use a machine like this in the gym then having a portable device at home will give you a whole lot of extra flexibility from now on.
Either way, this is a good-looking device that has enough features to keep you coming back for more for a long time.
What MiraFit Vibration Power Plate Looks Like
There are 3 colour options for you to choose from when you buy this exercise machine; Black, Green and Orange. Overall, it is a slim and stylish machine that should slot in seamlessly to just about any home and look good there.
In terms of the exact dimensions, it measures up at: W: 68cm – D: 38cm – H: 14.5cm. This makes it the kind of compact exercise machine that it is very easy to store away out of sight when you aren't using it, but it still appears sturdy enough to inspire confidence in its ability to stand the test of time and a lot of use.
If you don't want it to be sitting around the house when not in use then it should be easy enough to find somewhere to store it out of sight.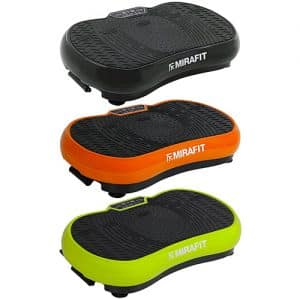 The fact that it is such a light and portable device is clearly a plus point for most of us who want to work out conveniently at home. However, the potential drawback here is that you might prefer a bigger machine that gives you more room to try out different types of exercise while you are using it.
Features
Among the most useful features on this MiraFit vibration power plates machine, we can find a built in display that shows you the time you have spent working out, the current speed setting and the program.
There is an impressive range of 99 speed levels, which means that you can set it to exactly the right level for your needs and fitness level. To make it even easier to get started, you can use one of the 9 pre-set programs to get going in style.
There are also 3 different foot positions, letting you choose an exercise that mimics walking, jogging or running as you prefer. All of these different settings mean that you can keep your exercising fun for longer by varying what you do each time.
A wireless remote control is included, so it is very easy to change the settings during the session if you want to. This means that you don't need to try and bend down to change the controls manually while the machine is in operation.
Pros
Small and convenient to use
Easy to get started with
Good value price
Very quiet
Cons
Some people may prefer use a bigger machine with more exercising space
Summary
If you are looking to get started with the vibration plates method of working out then the MiraFit Vibration Power Plate Gym Machine is an excellent, low cost way of making a start. Once you start using this device you should start to see the positive effects on your health and fitness pretty much right way.
With an affordable price tag and a high degree of flexibility in its use, it is easy to see why so many people have given this exercise device glowing reviews online.

Thank you for reading our vibration plate reviews. Feel free to get in touch with us if you have any concerns and inquiries. Visit here for our gym master vibration plate review.