Another major player out in the marker for vibration plates is Confidence VibeSlim Vibration Fitness Trainer. This stable and space saving device is easy to use equipped with high intensity powered workout. It can provide a 10 minute total body exercise which is great is you have a very busy working schedule. If you are still under budget constraints, give Confidence VibeSlim Vibration Fitness Trainer a try.
Let's take a look closer about what Confidence VibeSlim Vibration Fitness Trainer can do for you.
10 Minute Total Body Workout
For those who have really limited time to workout, this one can be your buddy. In just 10 minutes, you can achieve a full body throttle through this machine. Imagine that you don't have to go to the gym just to have your muscles work to exercise, don't that sound amazing? I bet this one will match your need to exercise in just a fee minutes.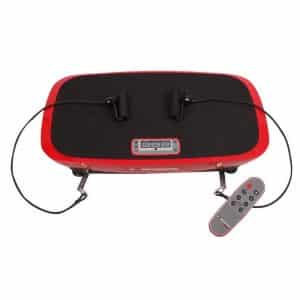 50 Speed Settings
The speed setting s designed to suit the level of intensity your body would prefer. You can choose from low to high power movement of the plate without making any noise. Yes, this machine is actually very quite too so it is ideal also for home use. Exercise using a vibration plate without being noisy at home. The machine performs and 300W up to 500W at the peak.
Instability
Because Confidence VibeSlim Vibration Fitness Trainer is a study device, it give the perfect stability for a vibrating plate workout. You can stand and feel the machine's wobble without actually tripping while doing it. This is also ideal for our elders who would like to experience exercising using the Confidence VibeSlim Vibration Fitness.
The more interesting fact about Confidence VibeSlim Vibration Fitness is its ability to give you muscle contractions better. To the extent that hundred more muscles are being worked out.
Accesories
Remote Controller
User Guide Manual
Elastic Bands for better workout on your upper extremities
Dimension
This product sizes 33.5 x 19.5 x 7.3 inches. It sturdy and slick and looks classy too.
Pros
Item is only 39.5 lbs
Not loud to use
You can perform workouts like push ups and planks
Cons
Does not oscillate
It can shake aggressively so jist be careful
You might also want to check how to repair if in case it gets broken after warranty
Customer Opinion
The old saying says the customer is always right. True enough it does not always reflects on how customers complain but also on how they speak about the product that they have used. For instance in Confidence VibeSlim Vibration Fitness' users reaction is very good. It had ranked almost 5 star. Although some user had some issues on asking about how to use it properly or if they can do push ups or planks on this machine, it still had fairly good revieww. This only means that there can always be an imperfect product however this one had stepped its use to the next level. Most of its users recommends on using it everyday for better results if you want to lose weight.
Summary
Confidence VibeSlim Vibration Fitness is yet another thumbs up workout equipment to use. If you are searching for a not so expensive yet very powerful vibration plate, I recommend trying this one. There are a lot of vibration plates you can pick out in the market but if you are looking for time saving, budget friendly and can do low, medium and high intensity vibration plate workout in 50 different speed setting then Confidence VibeSlim Vibration Fitness is a good product to get.
Click here to view our review for AMDirect Mini Fitness Vibro Power Plate Machine.