Thanks to the praises of Hollywood celebrities, vibration plates are becoming more and more popular these days both at home and in the gym, and if you are looking for the best of its kind, the JTX Pro-10 Power Vibration Plate is all you need.
How It Works
The key idea behind these famous vibration plates is toning your muscles faster and better through the vibrations. Now, this personal trainer favoured JTX Pro-10 works just the same as other vibration plates, which is also tri-plate. This means that you can take advantage of its huge power range when training on it unlike when using oscillation plates, which offer only a see saw motion. There is a "buzzing" sound that somehow reminds you "Hey, this is something serious!" The tri-plate feature moves in 3 directions, causing 30-50 muscle contractions per second.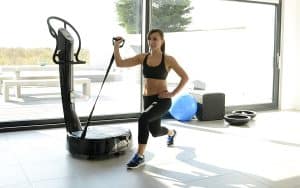 JTX Pro-10 – Power Vibration Plate | Best Power Vibration Plate 2017
No wonder a lot are not just curious but totally hooked about the JTX Pro-10. Not only does it make an ordinary workout more fun, but it also aids faster fat burning and muscle toning. This is backed up by a 2009 study conducted by a university and a college in Belgium, proving that vibration plates really work. Plus, you'll love how it nicely fits on any corner of your house!
The Pros
You don't buy a product just because someone tells you it's good, you still have to do your own research to find out if it fits your requirements. In the case of the JTX Pro-10, here are some noteworthy benefits:
You will lose about 7% more weight when you use it with your workout routine compared to the conventional gym equipment.
You can enjoy stretching and warm-up exercises with low vibration intensity.
Advanced workout routines are also possible because of the high-intensity vibrations.
It is built with sturdy materials that passed high quality standards.
It only requires a small workout space in your home of about 78 x 70 cm.
It comes with the necessary accessories like vibration plate training DVD, personal trainer vibration plate phone support, workout poster, noise reduction mat, comfort exercise mat, and power straps.
It also comes in a 3-year JTX warranty including home repair of the equipments and all the labour and parts costs.
The Cons
Just like any other training equipment, the JTX Pro 10 also poses some cons, which include:
Beginner injuries to those who are not familiar with operating the machine and the corresponding exercise routine suited for the intensity of the vibration. The injuries can range from back pain to cartilage damage and even brain damage due so it is best to consult your physician and your personal trainer before use.
Not getting the results you desire because of false expectations. The use of this power vibration plate must be coupled with a healthy diet for optimum results.
Conclusion
The JTX Pro-10 can be the best deal you can find in the market especially if you really desire to purchase a power vibration plate. Just make sure that you check the item thoroughly when it arrives and don't hesitate to ask questions through the phone support inclusion so you can be sure that you are using it appropriately. This way, physical and health hazards can be prevented. After all, the extra fat burning and muscle toning power of JTX Pro-10 is definitely worth the try.