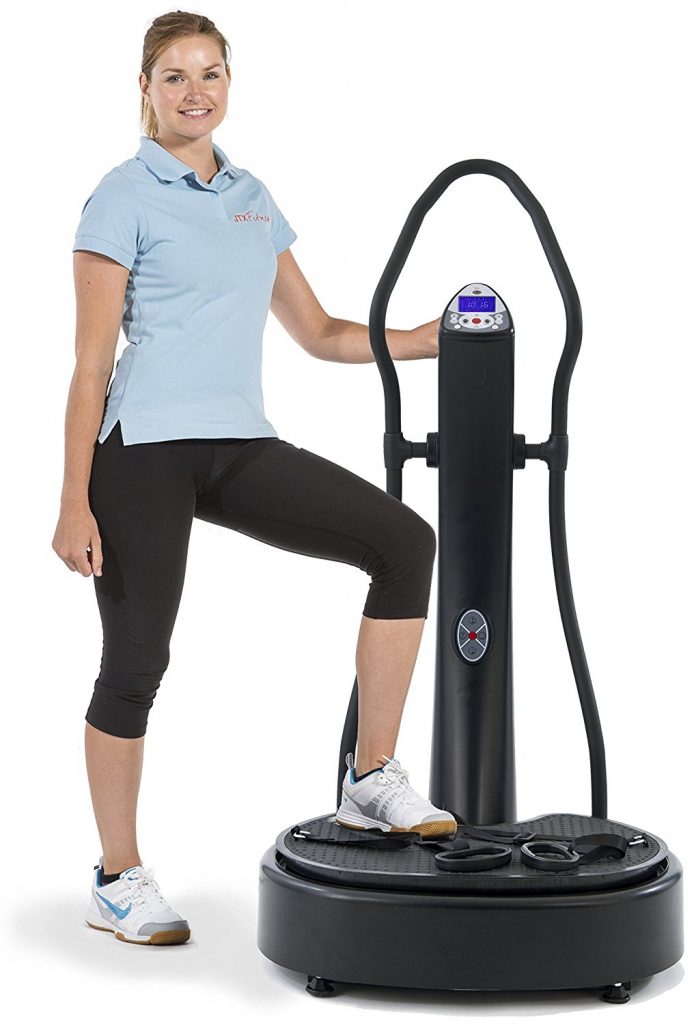 You could be forgiven for thinking that some of the claims made about the JTX Fitness 600 high power vibration and oscillation plate exercise machine and others like it, are far-fetched sales patter to say the least.  However, the claim that this kind of machine can exercise almost all of the muscle groups in your body, without needing any serious level of exertion has been proven time and time again to be more fact than fiction.
Because of the above and the way the machine works, the vibration plate has been called a passive form of exercise.  Many health and fitness experts agree that vibration exercise has great benefits for the user, with some of the results from test workouts exceeding traditional forms of workout (particularly when it comes to improvements in bone circulation and bone density).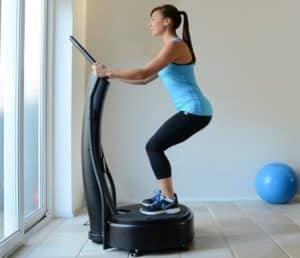 The JTX 6000 manufactured by JTX Fitness is one of the most widely available, well known and popular vibration plates on the market, but is it as good as people say it is?
Peek Power Rating Of 4000 Watts For Strong Vibrations And Oscillations
As the JTX Fitness uses two forms of vibration training, there are 2 different power ratings.  On the vibration side of things, it provides a total of 500 watts of power; while for the osculation functionality, it provides 2000 Watts of power, with an overall power rating of 4000 Watts.  This exercise tool is therefore able to efficiently and safely operate with a maximum of 160 kg onboard.
Two Types Of Vibration
Something that makes this vibration plate from JTX Fitness stand out from the sea of very similar vibration machines, is the fact it offers you not just one, but two forms of vibration training in one machine – vibration and oscillation.
Vibration training involves high speed vibrations for massage, strength and toning and oscillation training for body fat reduction, reducing cellulite and overall weight loss.  You have the option to make use of one or the other, depending on what you are working on each routine, or if you want to experience a truly high intensity workout that will give you the quickest results, you can combine both the oscillation and vibration in the same workout.
Slick Design, High Quality Materials And Robust Construction
JTX Fitness have ensured that their product is built from durable and robust materials, to provide users with a sturdy machine.  It is safe for seniors to use and anyone who normally has trouble participating in intense workouts due to injuries and weaknesses.  Because it requires very little exertion to use it can actually help you if you are suffering from stiffness and/or pain.
Comes Equipped With 8 Preset Workout Programmes And 198 Vibration Speed Settings
Obviously we each have different levels of physical fitness and strength and JTX Fitness have been careful to take that into consideration when designing this vibration and oscillation exercise plate.  There is therefore, a amazing 198 different speed settings that allows you to adjust the speed of the vibrations and oscillations to meet your own personal level of strength and fitness.  If you are just starting to use this form of exercise after a long period of no physical activity or have never really participated in a focused form of exercise – you can start off on a very slow level and alter it as you become more comfortable and able.
There is also 8 pre-programmed workouts to choose from that will save you time faffing around with the controls if you are just looking to get on and exercise.
Easy To Use Control Panel And LCD Display Monitor
As is almost the standard these days with home gym equipment, the JTX Fitness high power vibration and oscillation plate features a very easy to operate control panel and very clear LCD display monitor.  You can use the control panel to adjust the speed of the vibration and the oscillation as well as the duration of your workout.  You can also select the previously mentioned 8 different training programmes from this module.
A LCD display is essential if you are serious about your training as it enables you to keep track of your progress.
Accessories
Straps for arm toning
Vibration plate DVD
Workout poster
Personal trainer vibration training plan with phone support
Dimensions
The JTX high power vibration and oscillation plate is not the smallest or lightest on the market and measures at a width of 75 cm by a depth of 75 cm and a height of 143 cm.
Pros
Made from robust and sturdy materials
Suitable for a maximum weight of 160 kg
Powerful motor with a peak power rating of 4000 Watts that is also incredibly quiet.
2 types of training – vibration and oscillation
198 different speed settings
8 preset workout programmes
Easy to use
Easy to setup
Cons
It is very big and very heavy (this is the downside to it being able to carry a maximum of 160 Kg)
Not foldable and can't be easily stored away when not in use
Customer Opinions
Using the online reviews left by customers who have actually used a product, such as this JTX Fitness high power vibration and oscillation plate, is always a good idea as it gives you a clear look at the good points and bad points.  It's clear that a large majority of users of this vibration and oscillation plate had very positive experiences, as it has notched up over 20 reviews awarding it the full 5 star rating on Amazon UK.  One customer for instance, commented that he and his wife had both seen definite results from using it and always felt great after their 10 minute sessions on the machine.  In fact, after just 3 weeks using it, his wife had already lost several pounds.
Other customers also experienced positive results from using the machine.  It was not just the actual benefits that received high praise, but the actual design and sturdiness despite being big and heavy, also was commended.  As too was JTX Fitness's customer service team.
Summary
To conclude this review it is worth taking a moment to review all of the above.  The JTC Fitness high power vibration and oscillation plate promises a high intensity workout suitable for users of all levels of fitness and appears to actually deliver just that.  Although it is larger, heavier and less compact than a lot of other machines on the market, the upside of this is that it has a larger maximum weight capacity.
Looking at the customer reviews, the manufacturer's information and the price, if you are in the market for a high powered machine that will give you the high intensity workout you desire, the JTX Fitness vibration and oscillation plate could be just what you need.
Click here to read our review for Gym Master Vibration Plate.