It could be argued that vibration plate exercise machines are one of the greatest and most important innovations in home gym equipment.  Best vibration plates are both simple and effective way to help push your workout to the next level, increasing the number of calories you burn which in turn increases your weight loss, while increasing the size and toning of your muscles.  One of the most impressive things about this type of exercise tool is despite the fact you put your body through a tougher more focused workout session, it requires far less exertion than any other form of exercise and you don't even have to spend much time doing it.  10 minutes a session is often what people opt for.
The full body vibration platform fitness machine from Emer is a vibration exercise machine we have decided to highlight.  Although it has a more simplistic design than a lot of the other machines on the market, we will look at some of the reasons why you would be wrong to quickly dismiss it.
Oscillates As Well As Vibrates
As well as vibrating in the normal way most of these vibration plate machines do, this machine also oscillates.  Oscillation machines are designed and built to help with body toning, cellulite reduction and of course, losing weight.  They can also help to boost your metabolic rate and improve your blood circulation – all without breaking much of a sweat.  As this all in turn enhances the body's natural production of collagen, you will start to look younger and healthier using this piece of exercise kit.
Multiple Vibration Speeds And Oscillation Speeds
Emer know how vital it is for there to be a variety of options when it comes to home exercise equipment.  With their vibration plate they have provided users with 20 different vibration speed levels and rotation speed between 820 rpm and 3600 rpm.  This gives you the opportunity to fine tune and tailor the intensity of your workouts to match your own fitness levels and abilities.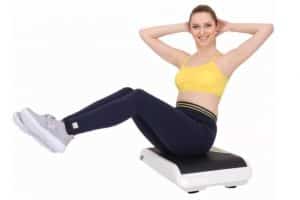 There is even the option to run an automatic programme that increases the vibration speed every 2 minutes, if you are looking for something hands free that will gradually become more challenging the longer you participate.
Sturdy And Compact
Among the many great things about this Emer vibration plate, one of the greatest is the design and just how compact and sturdy it is.  Due to its very low profile, it is very stable and with a strong suction cup on each foot it helps the platform to grip at the floor and stay stationary, regardless of how fast it is vibrating.  With a texturised, rubber top you never have to fear of slipping or sliding off the plate while exercising.
Features Large LED Screen And Easy To Operate Controls
As well as ensuring the platform is effective, efficient and safe to use, Emer have also done all they could to make it as easy to operate as possible.  There is a large and clear LED display screen that features 6 large buttons that give you full control over the machine.  You can use these buttons to turn the machine on and off, set the time using two different buttons (one to increase time, the other to decrease time), adjust the mode between manual and automatic, and to adjust the strength and speed of the vibrations.  They have also included with it a remote control so you can alter the settings even when you are standing up or in that intricate yoga or Pilates pose.
Accessories
Handy remote control to allow you to change settings while standing or positioned out of reach from the control panel
Instruction manual
Dimensions
A small and compact piece of exercise equipment, the Emer full body vibration platform fitness machine measures at a length of 65 cm by a width of 40 cm by a height of 14 cm.
Pros
Compact and robust design and construction
20 different vibration speed settings
2 different modes
Can give great results with only 10 minutes of regular use
Instruction manual includes a variety of low-impact exercises and poses to help you get best out of the machine
Cons
Customer Opinions
Usually the best thing to do when purchasing products from the internet, particularly when you are looking to spend hundreds of £'s of your hard earned money on exercise equipment for your home.  Unfortunately, when it comes to this entry into the vibration plate market from Emer, there is very little to go on from customers.  It has been reviewed by a total of two people on Amazon UK and both reviews tell of two wildly different experiences.  Whereas one customer complains about the fact their remote broke and they are not sure what they can do to get a replacement, the other reviewer has stated that they are more than delighted with the product and glad they invested in it.
Although this doesn't leave you a lot to go on if you are looking for something reliable to purchase, there is one aspect that you should consider – the price.  A large majority of vibration plate machines often retail for hundreds of pounds, whereas this model from Emer doesn't even break the £100 mark.  While the price isn't something you want to base your decision on, as one of the cheapest machines on the market it would be foolish to overlook it completely.
Summary
Looking at all of the above, if the Emer Full Body Vibration Platform fitness machine is as good as the manufacturer says it is, you might be on to a real bargain.  However, be aware of the incredibly low number of reviews that have been submitted regarding it.  The range of settings, features, the compact design and build and the price all at least make this a tantalising offer.