Sleek, versatile, and user-friendly, the Body Sculpture Power Vibration Trainer is a recent addition to the wide array of vibration plates available today.
Vibration plates have captured the curiosity of fitness buffs worldwide over the past couple of years. Qualifying as a perfectly portable home gym equipment, there has been a clamour for it online. In fact, many upgraded versions have been introduced to the market since it was first launched.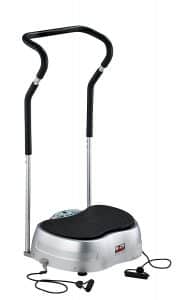 How It Works
For the benefit of those who are new to vibrating plates, these fitness equipment work by making the muscles contract in a fast pace in response to the vibrations you feel when exercising on it. The muscle contraction somehow becomes a reflex response. This is how the fats are melter and the muscles are toned, and the Body Sculpture Power Vibration Trainer works just the same.
Best Body Sculpture Power Vibration Trainer 2017
This vibration trainer, besides being one of the most affordable models in the market, also offers other health benefits apart from weight loss and maintenance and body toning. This non-impact training solution also improves blood circulation, helps reverse osteoporosis, improves stability of joints, decreases pains from stiff joints and muscles, reduces the appearance of cellulites, and increases muscular control.
Pros
Although affordable, it still pays to know if this Body Sculpture Power Vibration Trainer is worth your hard-earned bucks. To help you decide whether it's a good piece of investment or not, here are some of its key features and advantages:
The bottom surface comes in adjustable feet for uneven surfaces. This means you don't have to worry about it being unstable on your floor.
It has comfortable handles
Got pretty sweaty palms? The handles are cushioned so your hands don't slip even when you sweat a lot while working out.
The vibration trainer weight 22 kg. With a dimension of 57 x 63 x 124 cm. This means that it won't take up a lot of space in the house and can be easily carried from one corner to another. The weight is just like that of your toddler's. You can literally carry it so you can exercise in your bedroom, on the porch, on the garage, or anywhere in the house.
It comes with a remote control for quick adjusting of time, speed, and programme. You can put the remote to safety at its designated space at the base of the vibration trainer when you aren't using it.
It has a tracking display
The equipment also comes with a built-in display showing 1 manual setting, 3 pre-set programmes, time, and speed.
Cons
Because of the affordable price of the Body Sculpture Power Vibration Trainer, you should not expect experiencing more than light workouts. However, the intensity of the vibration is enough to keep you in shape except if you prefer to do more vigorous exercises.
Conclusion
The Body Sculpture Power Vibration Trainer is definitely a must-have fitness equipment especially for those who are on a tight budget but still want to be physically fit and healthy inside their own homes.
Click here to learn about Gym Master 2017 Crazy Fit Vibration Machine.