Check Price On Amazon.co.uk
Introducing another body sculpture equipment that is good for home and gym use. Another player that is not too pricey but has innovative work power. This state of the art machine is built by Body Sculpture to join the bandwagon of vibrating machine specifically vibration plates. It is another training solution that has health benefits.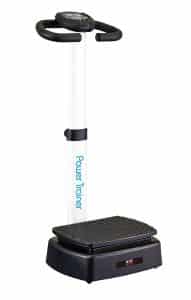 Body Sculpture Power Trainer
This price range is competitive enough and is still worth is becuase of it's function and use. It normally sells in £199.99 but it is not only at £129.99 and also comes with free delivery which is another point to look at. Value for money and investment is what this machine is all about.
Built for Safety and Comfort
Body Sculpture Power trainer is amazingly made to address the issue of vibrating plates as not being safe. This one answers it. Body Sculpture looked at areas of improvement in the body through the use of exercise and at the same time being comfortable doing it. What's good about Body Sculpture Power trainer is that the feet of the plate which is just located under it are adjustable. That is very good when you work out in floor that is uneven. That way it is easier to adjust and work out feeling safe on uneven floors. Along with it, on the armrest is a foam covered railings for better comfort and better workout experience.
Solution for Workout Monitoring
This is why the price of the machine is not bad for a vibration plate. This has a built in computer system that provides workout monitoring and displays programs. Customizing your workout is very easy for this machine too. It is easy to track your progress or how well you are doing with your workout with Body Sculpture Power trainer.
Accessories
Manual Instruction
Power Cord
Remote Controller
Dimension
It has a size dimension of 49 x 55.3 x 138.8 cm. Although it is a standing a machine, it does not weigh as heavy as you think.
Pros
Not too heavy
Easy to use
Has wheels and very easy to move around
Arm rest covered with foam
Armrest are also adjustable
Manual guide comes with exercising samples in different ranges
Work out monitoring
Cons
Gives too much comfort sometimes doesn't give too much power
Very relaxed machine
Foam in the armrest comes off
Customer Opinion
We would want to listen to what people say before we even buy a product. If comfort is the one concerned, this machine is a good choice. Buyers of this machine thinks that it is still a good value for money but does not really give the intense workout they need. Reviews on Amazon states that users are still impressed with Body Sculpture Power trainer. There are various workouts that you can do with this product as well.
Summary
Although Body Sculpture Power trainer is yet another introductory machine for Body Sculpture. Buyers of this machine loved it overall. With that said. It is still a good investment to make. This is ideal for those who needs a more relaxed equipment to use at the same time enjoying having a vibration plate machine.