The first thing that you will notice when you start using this vibration plates machine at home is how thin it is. Yet, it is also clear right away that it is a powerful and robust enough to give you the kind of effective workout that you are after.
When reading the specifications it perhaps sounds as though it is going to have a hefty price tag attached to it. Yet, this isn't the case at all. Despite the impressive range of functions it contains, the 2017 Ultra Thin Xtreme vibration plates model has a low price that makes it ideal for beginners looking to find out whether they could benefit from this way of working out.
What Ultra Thin Xtreme Fitness Massage Power Plate Looks Like
With a size measuring in at 68 x 38 x 13 cm and weighing just 15 Kg, this is a compact exercise machine that you can use whenever and wherever it suits you to do so. If you want to move it about your house then the roller wheel and handle grip make it very easy and convenient to do so.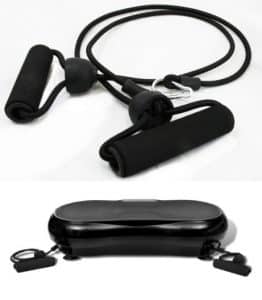 Some people find that these small vibration plates for home use are a little bit too small for using comfortably while carrying out different exercises. Thankfully, this 2017 Ultra Thin Xtreme model has an extra wide 74cm vibration plate and an impressive 15mm amplitude too.
All in all, it is probably just the right size for most people to use for their home exercising routines.
Features
The presence of 180 speed levels, 5 auto modes and a manual mode tells us right away that this is a vibration plates machine that offers you a huge level of flexibility and personalisation. However, the remote control and the touch sensitive control panel also ensure that it is very easy to get the exact settings that you need.
If you want to alter the settings without having to stop or bend over then you can use the remote control that is included with it. This makes life that little bit easier and ensures that you also avoid any risk of injury when changing the settings.
You can vary your exercising even more by using the detachable resistance arms bands that are included in the package too. The base console has a couple of useful LED screens that show figures such as the speed, the time and the program mode.
It is also worth pointing out that this machine uses pivotal vibration rather than the vertical approach. While there are differing opinions on which one is best, many people feel that the pivotal technique is less stressful for the user's joints.
Another useful feature here is that this model includes a 5 year warranty. Instructions for use come in the shape of a useful wall chart that makes it easy to get started from scratch the first time.
Pros
Lots of features for a reasonable price
Very flexible and highly adaptable
Simple but attractive design
5 year warranty
Cons
Not all reviewers are equally impressed by the quality of the construction
 Summary
This is an extremely interesting option for anyone who wants to work out effectively at home. It is likely to be an especially welcome addition for anyone who feels that they are short of time for exercising.
It is a nice model to look at and it also carried out a wonderful job in helping to burn off calories and build up strength. If you want to feel ready for whatever comes your way in life, by getting a vibration plates machines into your home you will making a powerful start that it is easy to carry on with.
In case you would like to read our review regarding BTM vibration plate, click here.